Britt-Marie Carlsson and Camilla Berg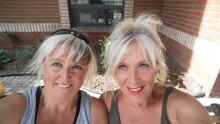 ---
We are two ordinary women living in our best years.
Camilla got her motorcycle driving licence in 2011. She has a Suzuki Marauder and also loves to ride her Icelandic Horse. She has ridden the famous mountain road Trollstigen (Trolls' Path) in Norway and has toured the southern parts of Sweden. She works as a Health Coach for Herbalife and has a boyfriend and two children.
Britt-Marie got her motorcycle license in 2008. Also a horse rider, she is currently on her third motorcycle which is a Honda Nc750x. She has toured around Europe, Germany, France and the Alps and Sweden. Britt-Marie works as a beauty advisor for Chanel is single and has two children.
More articles by Britt-Marie Carlsson and Camilla Berg