Ginny Allen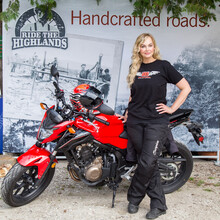 ---
Motorsoul Riding School was founded by Ginny Allen. Starting as an avid rider in 1997, with raw talent and a passion for the sport that earned her early recognition as a rising star in the instructor ranks, quickly becoming a licenser/examiner for the Ministry of Transportation before developing her own program.
Ginny is also a motorcycle demonstrator rider for the Ministry of Transportation, as well as for Serco DES (the Driver Examination Centre). A Demo Rider is a highly trained and specialized rider who is used in the training and re-certifying of all M Examiners in Ontario.
Ginny Allen has fulfilled her dream of developing a unique motorcycle training program with a strong focus on safety, and a high rider skill level. She is a trailblazer, not only in her unique approach to training, but also as a female entrepreneur in a male-dominated business.
More articles by Ginny Allen